Review My Claim wins the Excellence in Marketing and Communications award at the 2014 Law Society Excellence Awards
Date: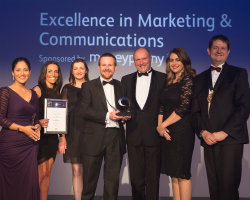 Emsleys Solicitors, the law firm which brings you Review My Claim, is celebrating after winning at the prestigious national Law Society Excellence Awards in London on Thursday evening (9th October).
The annual excellence awards recognise outstanding achievement across the legal sector.
Review My Claim won in the Excellence in Marketing & Communications category for its engaging scenario-based animated campaign.
Law Society president Andrew Caplen said:
"Last night was a celebration of the remarkable work of individual solicitors as well as the successes and innovations of practices and firms, both large and small. It was a triumph.
Rarely do you get such a breadth of talent under one roof and it is heartening to see the continuous good work that makes our profession what it is. I am glad the Law Society, through the Excellence Awards, is able to formally recognise this good work, which usually takes place quietly, out of the spotlight and as a result of many long hours."
Categories:
Go Back