Review My Claim shortlisted for national innovation award
Date:
Review My Claim has been shortlisted for Innovation of the Year at the 2014 Modern Law Awards.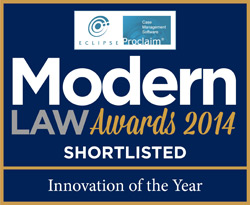 In making their final selection, the Awards' judges have sought innovations with a unique approach and those which show long-term sustainability and continuous innovation.
Review My Claim is a market-first in directly targeting consumers to educate them in their right to choose an alternative solicitor if they are unhappy with the service they are receiving or the compensation being offered.
Review My Claim is the brainchild of Emsleys Solicitors' Senior Partner Andrew Greenwood, who was dismayed at examples of incompetency in claims handling and settlements he had been asked to review.
We donate £10 to both Yorkshire Air Ambulance and national charity SCARD for every case we take on.
The 2014 Modern Law Awards will take place in London on Wednesday 15th October.
Categories:
Go Back